The first signage fabric made from 100% post-consumer recycled plastic
Reduce your plastic footprint and improve your brand exposure.
Our Planet and its water resources are polluted with billions of plastic bottles. One PlanetTM up-cycles discarded plastic into a luxurious polyester that can be printed into eye-catching branding signage used for retail or marketing.
Make a difference, choose One PlanetTM.
Fabrics made from recycled plastic bottles… protect our planet.
One PlanetTM fabric offers unparalleled performance combined with certified sustainability and fire resistance. Our expert print partners can reproduce amazingly vivid designs to make your brand stand out. 
One PlanetTM Specifications
Weight: 7 oz/yd2 Flame Retardancy: NFPA-701:CA19 100% Recycled: Certified by GRS Suggested Applications: Banners, exhibit graphics, home furnishings, photographic backdrops, retail displays, silicone edge graphics, backlit displays, table covers.
One PlanetTM fabric is smartly engineered to achieve an optimum solution for the soft signage industry
Perfectly smooth matte texture improves color fixation
Consistent stretch without the use of spandex
Excellent opacity with a light weight construction
Superior wrinkle resistance despite flame retardancy
Soft hand-feel without sacrificing tenacity
Luxurious yet environmentally sustainable
From bottle to fabric, discover how it's made
One Planet Fabric TM allows the signage industry to walk away from the use of virgin plastics.
The process starts with collecting and cleaning thousands of beverage bottles, which are then cut into tiny flakes. These go through a re-polymerization process to result in recycled chips. Finally, these are transformed into specially engineered yarns that include a unique chemical tracer to certify authenticity. All this process is carefully monitored by third party Global Recycled Standard to certify its compliance with internationally agreed criteria.
Using the latest technology, the yarn is knit into fabric. The final step is a wash with a flame retardant solution, which allows use at any hotel or convention center in America. The result is an enhanced fabric, with a deluxe hand feel and unparalleled color consistency. Its exclusive construction allows it to stretch just enough to allow beautiful tension when in use, with a wrinkle-free effect. It is ready to be printed with state-of-the-art dye sublimation technology into large format graphics for events, trade shows, or signage.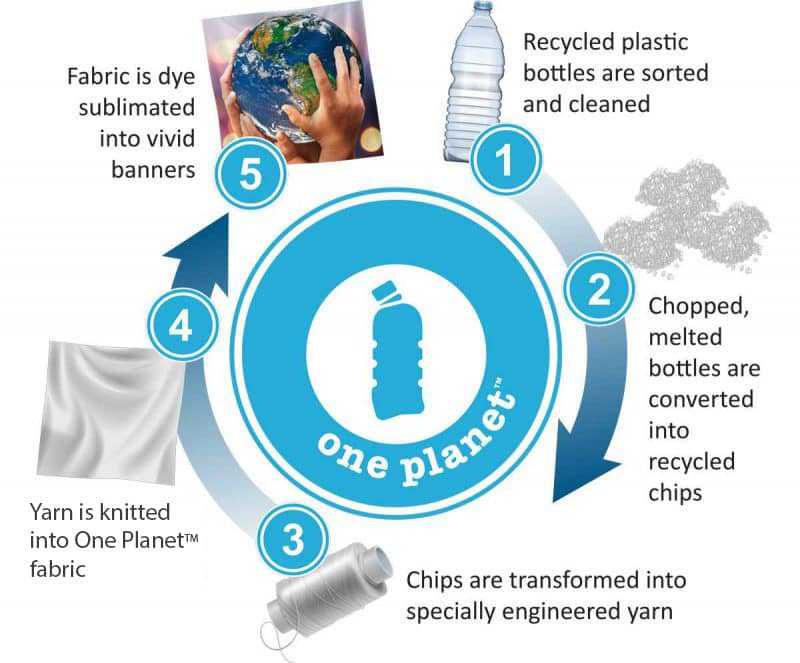 Check out how many water bottles can be recycled per banner
This luxurious polyester fabric starts from specially engineered yarns spun from recycled bottles. Banners printed with authentic One PlanetTM fabric prevent plastic bottles from entering landfills or oceans. But there are other advantages. They also avoid the use of crude oil, reducing our reliance on petrochemicals. There is also a reduction of over 50% in the release of carbon dioxide during production. And to top it off, 85% less energy is used during manufacturing.
So how many bottles will your banner have? It's actually a very simple mathematical calculation. There are 45 bottles per kilogram of yarn, which translates into 1 bottle per square foot of One PlanetTM fabric.
Plastic or planet? Just choose One PlanetTM.
Explore how you can use One PlanetTM fabric
One PlanetTM fabric was specially designed to work with dye sublimation technology to produce superb printed banners, whose widths can create mural-like panels without seams. The surface is finished with a very soft matt texture that is the perfect setting for colors to stand out. Its exclusive knitting pattern allows enough stretch for the fabric to conform to various tension structures, without the need to add lycra fibers. It is inherently wrinkle resistant, so it can be folded, or bunched up, for packaging. And it is treated with fire retardants to conform to venue regulations.
All of these characteristics make this a perfect media to be used in the signage industry, whether as temporary branding at trade shows, museum exhibits, corporate events, meetings, sponsorships, sports events and fairs, or for more permanent applications at stores, churches, schools or businesses. One PlanetTM is also suited for illuminated applications, producing vibrant colors on LED light box displays. You can use One PlanetTM to create banners, backdrops, hanging signs, table covers or throws, flags, drapes, or displays of any kind. It is compatible to work with popular exhibit systems to create large, customized structures, or dress up store windows.
Given the lightweight, flexible, and aesthetically pleasing attributes of fabric components, they're tailor-made for the demands of the trade show and signage world. One PlanetTM takes a step further by allowing brands to take advantage of fabrics while significantly contributing to a sustainable world.
Join the brands leading the charge in signage sustainability
Pioneering marketers are incorporating One PlanetTM ​ fabrics in their trade show display, signage, corporate event offerings.
Have any questions? Contact our team, together we'll take care of our One Planet.